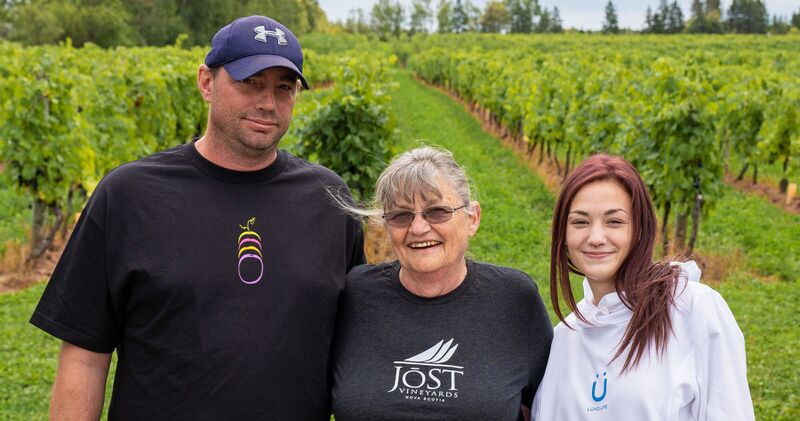 Published: Thursday, October 8, 2020
On a fall day in 2000 Idella Hefferman and her Mom were driving along in their car when they noticed a sign announcing Jost Vineyards was looking for workers. "I put my name in," says Idella, who goes by Button, "and started working in the vineyard right away." Little did she know then that she was commencing on a journey that would become a family affair.
She worked at Jost for the next five years becoming skilled at pruning, tying, and the many other tasks associated with nurturing a healthy vineyard, "as well as driving the tractors." say Button, "Then, about 15 years ago, I got called in to wash tanks."
Once Button moved to working in the cellar she learned not only the processes for cleaning and sterilizing the immense tanks that hold the wines, but took on a role working directly with the wine master in blending and filtering the wines. When asked what part of the winemaking process she enjoys the most Button doesn't hesitate to say, "Running the Romfil—that's my favourite. Setting it up, hooking it to the tank and running it at 600 to 1000 litres per hour." She took the time to explain that this process happens after fermentation and during the last stages of the wine process before bottling. "It's powerful when the wine goes through; when it does its thing."
Harvest time in the vineyard and the cellar can be nerve-wracking. "There is a lot of pressure and long hours." says Button. So, five or six years ago when the winery team needed a reliable forklift driver for three weeks during the press of harvest, Button suggested her son Tony for the job. Tony, who is a man of few words, says "They just kept asking me to come back."
After that first harvest Tony moved seamlessly over to working in the cellar. "He's pretty much our main man," says Button with a hint of pride in her voice, "running presses, filtering, moving barrels… everything, he's the strongest!" When asked about his favourite part of the winemaking process, with a twinkle in his eye Tony says "The paycheque." But after a moment he declares "Running the presses, especially the new one."
This summer Tony's daughter Maddison took a job at Jost in the Seagrape Café as a server. "I've wanted to work here for a while;" says Maddie, "I did a job placement here through school two years ago, but I had to wait until I was of age." When positions in the boutique and café became available Tony let Maddie know and she applied right away. It certainly was an interesting year to start waitressing, with the pressures around Covid and the additional requirements for masks and sanitization, but Maddie says she enjoyed it because she likes working with the public. "My favourite part is meeting people who are excited to be visiting the winery for the first time," she says, "and of course working with my family and the whole team here at Jost. They are cheery!" Maddie says she hopes to work in the cellar too once Seagrape closes for the winter months.
When asked what advice they would give to others who might want to work in the wine industry, Button says it is important to visit a winery and to see the process from vines to bottling. "It's a big process!" says Button and Tony adds "It is hard work. It's hard to take time off. Something always needs overseeing." Button interjects, "Knowing how much is involved, I once said to Carl 'It must be scary to own and run a winery' and he said 'I don't scare easy!'" she smiles and Tony says "You have to be caring all year long, we have wines aging for years in the cellar." So, while this time of year and harvest are incredibly important, all three agree the key is working as part of the Jost team all year long.
Button's husband Howard also worked at Jost for five years and just recently retired. When asked how it is that a family with no history of farming in their family tree could build a three-generation relationship with their local winery Button says simply, "When you find a good thing, spread it around."
We couldn't agree more! Happy Thanksgiving from our family to yours.