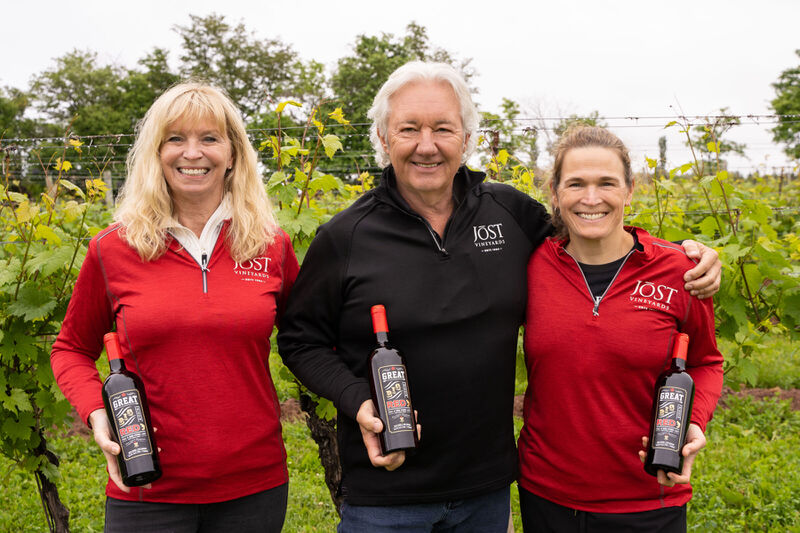 Published: Thursday, June 23, 2022
We have Great Big News! Our Great Big Friggin' Red wine has won Double Gold in the 2022 All Canadian Wine Championships.
We're so pleased "GBFR", a wine we originally created in 2017 to celebrate Canada's 150th anniversary and our Nova Scotia wine heritage, continues to be so well received.
"This is such an honour. The wines we were up against can hail from anywhere in Canada and considering over 1200 wines were entered into the entire competition from 194 wineries, our competition was likely pretty tough!" said Gina Haverstock, Head Winemaker.
"To earn this honour is both gratifying and bitter sweet." said Carl Sparkes, CEO and co-owner of Jost Vineyards, "We are very pleased that our winemaking team is recognized for their craft, but in 2022 we are still working to change provincial shipping laws so we can trade our farm-based wine across provincial boundaries and allow all Canadians to enjoy it."
Thank you to our whole winemaking team; and congratulations to our fellow award-winning Canadian wineries.
If you're raising a glass of GBFR alongside the BBQ this weekend, here's a toast to Canadian wine, shared success, and good friends.
Photo l-r: Owners Donna and Carl Sparkes with Head Winemaker, Gina Haverstock